Delicious Leek Gallette
Posted December 27, 2013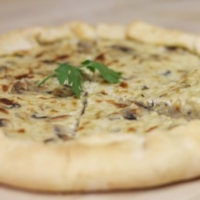 The tasty Leek Galette is sure to get your tastebuds turning in a tailspin. Take it for a test drive this holiday season and your guests are sure to come back.
Ingredients
Ingredients For Crust
1 cup unbleached flour
1⁄2 cup whole wheat flour
1⁄2 teaspoon salt
1⁄2 Tablespoon baking powder
1⁄2 cup silken tofu
1⁄4 cup soy sour cream
2 Tablespoon plain soy milk
1⁄4 cup olive oil
Ingredients for the filling
2 cups sliced leeks
1 Tablespoon olive oil
2 cups mushrooms, sliced
1⁄2 teaspoon salt
3⁄4 cup soy sour cream
1⁄2 cup chives, chopped
1⁄4 cup parsley, chopped
Instructions
In a bowl, mix flours, salt, and baking powder.Set aside.
Blend the tofu, sour cream, milk, and olive oil till very smooth
Pour the cream over the flour mixture, and mix very gently.
Pour the dough over a floured surface
Roll out the dough, wrap it in plastic, and put in the fridge for 20 minutes.
Meanwhile, saute the leeks in olive oil till soft.
Add mushrooms, and season with salt. Cook for 3 minutes.
Put into a bowl, and add sour cream,chives, and parsley.
Open the dough 1 inch wider than the pizza pan. Spread the filling over the dough, and fold the edge over the filling.
Bake for 30 minutes at 350 F or till golden brown.