Honey Rice Cookies
Posted January 03, 2014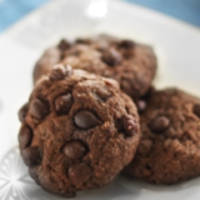 Ingredients
1 Cup almond butter
⅓ cup honey
2 teaspoons flax meal mixed in ¼ cup Warm water
2 teaspoons baking powder
2 cups finely-chopped almonds
½ cup cornstarch
1 Cup brown rice flour
Instructions
Preheat oven to 325°F
In a large bowl, mix together all ingredients except the flour.
Add flour, a bit at a time until a soft dough forms. Place dough between two sheets of plastic wrap, and roll out.
Remove top sheet of plastic wrap, and cut the dough into circles.
Place on oiled cookie sheet.
Bake for 10 to 12 minutes or until golden.